Frequently Asked Questions
Get answers to the questions most frequently asked about running the Emei Mountain Race race.
WHEN IS THE RACE?
The Emei Mountain Race will be from MAY 18-19, 2024.
Online registration is open, you can register here, on our website. Entry fees will increase as the race date gets closer, so register now before prices go up.
WHEN IS THE DEADLINE?
Registration closes on MAY 4TH to allow time for event planning and logistics. Register now to guarantee your spot.
WHAT'S INCLUDED?
ENTRY ITEMS
10K RACE
27K RACE
55K RACE
35K HIKE
ENTRY
PACKAGE
BIB
✓
✓
✓
✓
SHIRT
✓
✓
✓
✓
HANDBOOK
✓
✓
✓
✓
SOUVENIRS
✓
✓
✓
✓
RACE DA✓
AID-STATIONS
✓
✓
✓
✓
TIMING SERVICE
✓
✓
✓
-
SHUTTLE BUS
✓
✓
✓
✓
PARK PASS
✓
✓
✓
✓
TRACK PROTECTION
✓
✓
✓
✓
LOCATION SERVICE
✓
✓
✓
✓
LEI DONGPING LODGING & MEALS
-
-
-
✓
FINISHER ITEMS
FINISHER MEDAL
✓
✓
✓
✓
ELECTRONIC CERTIFICATE
✓
✓
✓
✓
FINISHER SOUVENIERS
-
✓
✓
✓
Possible expenses: Athletes who are drop or withdrawn during the competition and need to be evacuated by cable car, if they still have the ability to move (judged by the race doctor), they need to pay for the cable car themselves .
RACE LOCATION?
The Emei Mountain Race is located in Mount Emei in Emeishan City, Leshan City, Sichuan Province of China. Event check-in will be located at Mount Emei Shan Hotel, No. 322, Section 2, Baoguosi Scenic Area Road (报国寺景区路二段322号峨眉山大酒店). The event start will be located at the World Famous Mountain Arch nearby.
CHECK-IN
Time:  MAY 17, 2024, 10:00 - 20:00
Location: Emei Shan Hotel, Emeishan City, Leshan City, Sichuan Province.
PREPARE FOR CHECK-IN
Identity certificate: The certificate (ID card or passport) for registering registration information is limited to the applicant himself. It is not possible to register and pick up items on behalf of the staff.
Physical examination certificate: a copy of the physical examination certificate from a regular hospital or physical examination institution within one year (with no abnormality in ECG, heart rate, etc.) or on-site signed medical examination statement waiver.
GPS deposit: All contestants need to prepare a deposit of 500 yuan for GPS positioning equipment, Alipay or WeChat, and it will be refunded in the same way after the race.
Required equipment: Compulsory equipment needs to be checked when registering. If the mandatory equipment is not complete, the entry pack will not be issued. The starting inspection will check the mandatory equipment again, and any lack of any item will disqualify the race. During the competition, the staff will also randomly check the entry packs at each checkpoint, and the contestants with incomplete mandatory equipment will be terminated from the competition.
When the contestant picks up the item, please check on the spot to confirm whether the items in the entry bag are complete and whether the timing and positioning tracking equipment is effective.
The organizing committee will not issue the entry package if you fail to report and collect your belongings on time.
EVENT SCHEDULE
DATE
TIME
AGENDA
LOCATION
FRIDAY 5/17
10:00 - 20:00
Event check-in and packet pick up
Mt. Emei Hotel
20:00 - 21:00
Technical briefing for all groups
Mt. Emei Hotel
SATURDAY 5/18
6:00 - 6:40
All groups check-in
World Famous Mountain Arch
6:40 - 7:00
Opening ceremony
World Famous Mountain Arch
7:00
All races start
World Famous Mountain Arch
11:00
10K race end (4-hours)
Wannian Temple
10:00 - 18:30
Group shuttle Wannian Temple to World Famous Mountain Arch
Wannian Temple Parking Lot
17:00
27K race end (10-hours)
Gold Item
19:00
35K two day flower viewing hike group day 1 end (12-hours)
Lei Dongping
14:00 - 18:30
Group shuttle Lei Dongping to World Famous Moutnain Arch
Lei Dongping Parking Lot
21:00
55K race end (14-hours)
Nanshan Command
14:00 - 21:00
Group shuttle Nanshan Command to World Famous Mountain Arch
Nanshan Command Parking Lot
SUNDAY 5/19
5:30 - 6:00
35K flower viewing hike group day 2 check-in
Lei Dongping
6:00
35K flower viewing hike group day 2 start
Lei Dongping
16:00
35K flower viewing hike group day 2 end (8-ours)
Lei Dongping Parking Lot
9:00 - 11:30
Group shuttle Lei Dongping to World Famous Moutnain Arch
Lei Dongping Parking Lot
11:30
Award ceremony for all categories
Mt. Emei Hotel
14:00 - 18:00
Post race activities and wrap up
Mt. Emei Hotel
* Final schedule adjustments maybe made closer to race date.
FINISHER AWARDS & PRIZES
All finishers can get a corresponding group medal, and the resulting certificate will be released and downloaded a few days after the end of the competition.
All finishers will receive an official finisher medal.
Finisher Certificates will be available for download and print via email a few days after the race.
The top three prizes for men and women in the 10K / 27K / 55K categories will be awarded competition trophies and commemorative prizes.
The 35K 2-day hike group will not have awards.
*Prizes are subject to change each year.
GEAR CHECK
Provide storage bag service at the starting point.
At the start of the race inspection, to store bags in the main venue, you need to use the storage bags uniformly issued by the event, and affix the storage bag stickers (with player number, group, and storage point information on it) on the designated position of the bag.
Pick up the storage materials at the finish.
Dress-up points: Leidongping and Nanshan headquarters.
Dress-up instructions: Compulsory equipment is not allowed to be stored at the dress-up point. After the contestants have changed their clothes, they will check the condition of the mandatory equipment again before starting.
It is important that all Emei Mountain Race participants follow the race rules and regulations, please review for details.
TRAVEL REQUIREMENTS
TESTING
Currently, China requires proof of dual negative COVID-19 test results for a Health Declaration Certificate (HDC) QR code before boarding any plane to China. The tests must be completed no more than 48 hours prior to departure and submitted to the local Chinese embassy or consulate.
VACCINATION
As you prepare for your trip to China, it is very important to consult your doctor regarding your general health to participate in endurance activities and any vaccinations you may need.
It is also important to check with the China embassy and your local travel requirements to verify if vaccination and certified test results are required for travel.
Vaccinations should be obtained from your own physician. If Emei Mountain Race gives information about vaccination measures or other medical information, this should be considered as a service that is under no medical liability.
Participants must be able to document the fulfillment of vaccination requirements by presenting the International Certificate of Vaccination.
Please be advised that vaccination and testing requirements are the customer's responsibility.
QUARANTINE
Additionally, there may be quarantine requirements upon arriving in China. Requirements are being updated regularly as we progress through the pandemic.
MORE INFO
Please check your local Chinese Embassy website for up-to-date requirements.
CHINA VISA
A China travel visa is required for foreigners to enter the country. We recommend you apply for a visa as soon as you have your flight itinerary. It is best to apply early rather than risk missing out. When applying to be sure to provide in advance your flight itinerary.
Almost all non-Chinese nationals will need a visa to enter China. There are different visa categories and you will most likely need a tourist visa (L). Please contact your local Chinese embassy or consulate for more information. The procedure normally requires submitting a visa application form, paying a fee and providing the Chinese authorities with an authorized flight itinerary from your travel agent. This process takes about one to two weeks. Note that your passport must be valid for at least six months after entry. For more information please visit the Chinese Embassy website.
HOW TO GET THERE?
Participants will need to arrive at Emeishan City, Leshan City, Sichuan Province of China. The Emei Mountain lies 160km southwest of Chengdu. All flights will be to the Chengdu Shuangliu International Airport (CTU).
Once in Chengedu, arrange for transportation to Emeishan City, Leshan City. Event check-in will be located at Mount Emei Shan Hotel, No. 322, Section 2, Baoguosi Scenic Area Road (报国寺景区路二段322号峨眉山大酒店).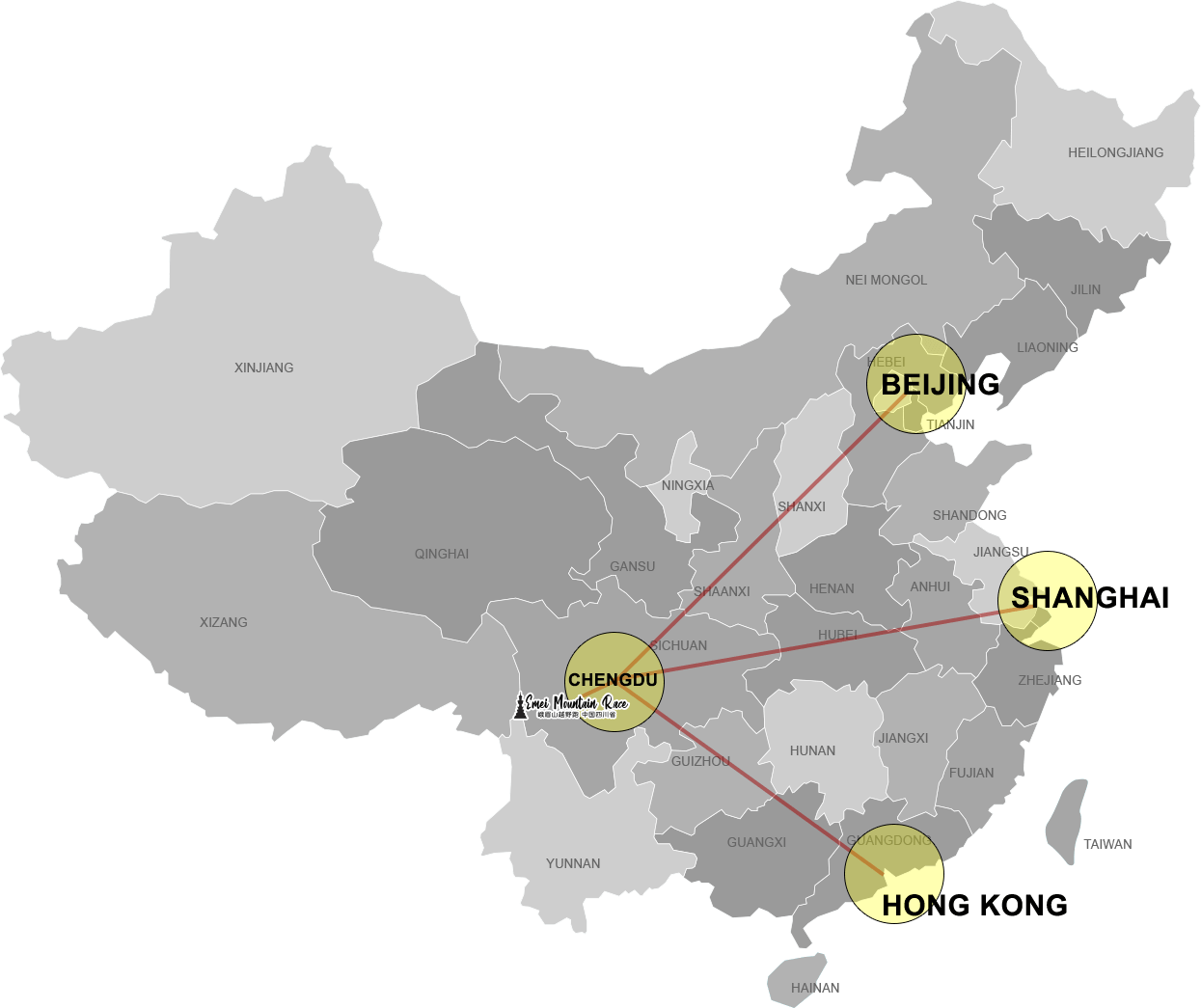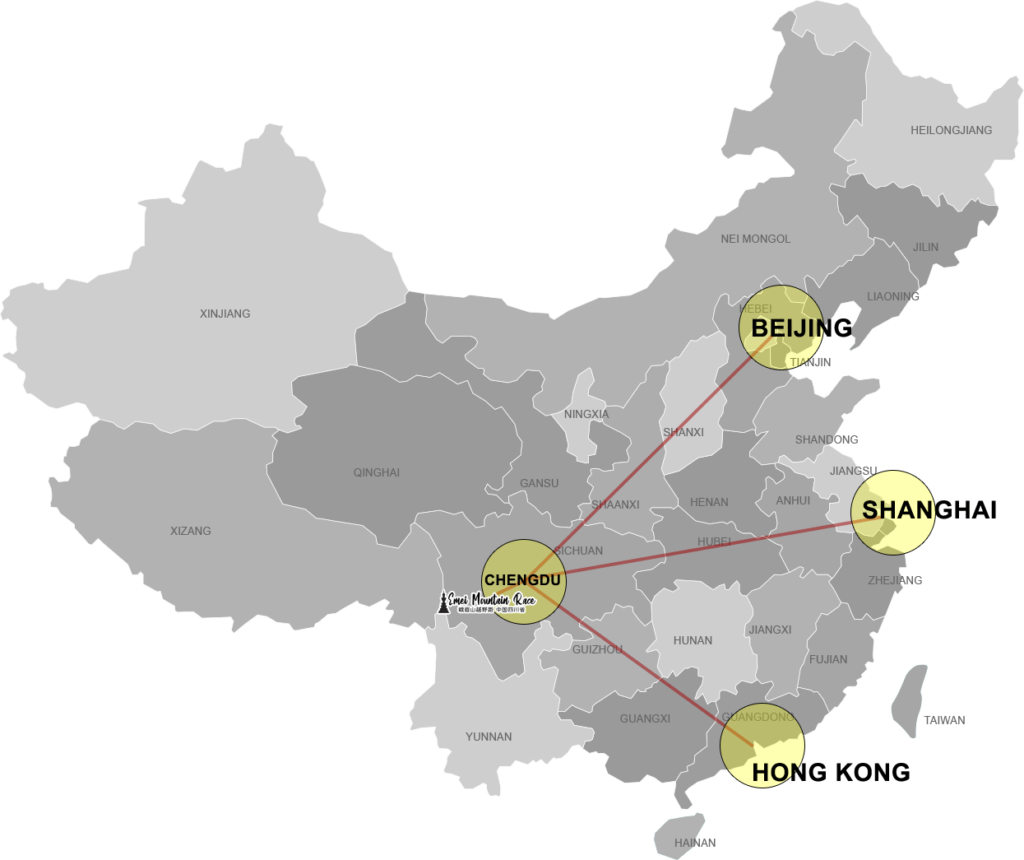 WHERE TO STAY?
The Emei Shan Hotel is the official supporting accommodation hotel.  Located in Emeishan City, Leshan City, Sichuan Province. We recommend booking a room there or nearby for easy access to the event.
Address: No. 322, Section 2, Baoguosi Scenic Area Road (报国寺景区路二段322号峨眉山大酒店).
HOWS THE WEATHER?
Average weather in Emeishan in April can be mild with temperatures at 17°/5° C or 64°/40° F, with about 40% chance of precipitation. Temperatures will drop as elevation increases into the Emei Moujntain, prepare for a 5-15° variance. We recommend checking local weather forecasts as race day approaches and planning accordingly.
ENTRY TRANSFERS
Entries are NON-TRANSFERABLE. Sorry, no exceptions. Due to the insurance requirements for each individual, no transfers are allowed for this event.  If it is discovered that your entry has been transferred, the qualification of both the transferor and transferee will be canceled.
CANCELLATIONS
Entries are NON-REFUNDABLE. Sorry, no exceptions. Due to race logistics and planning, you will not receive a refund if you cannot participate.
Can't find the answer to your question above or on the regulations page? Please contact us with your questions and we will get back to you as soon as we can.
DISCLIAMER
Please note that event information here represents what is planned for the event. Locations, routes, schedules, adjustments, and changes may apply depending on conditions, availability, late participation entries, and improvements. The event strives to improve for the best experience.